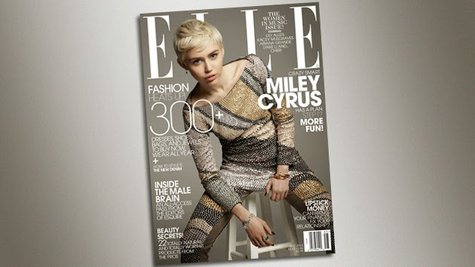 Over the last few years, Miley Cyrus has gone through some major upheavals in her life: she's completely left her Hannah Montana Disney persona behind, gotten engaged to actor Liam Hemsworth only to see that relationship crumble, and of course, made headlines worldwide for her raunchy behavior. In the new issue of ELLE magazine, the singer reveals that all these challenges have only served to make her a stronger person.
In the interview, conducted by 17-year-old journalist Tavi Gevinson, Miley says, "I'm really thankful that I started on Disney. I got the most intense training. There's times where I wish I could have just started as a new artist, but the world has kind of allowed me to do that. I feel really lucky -- a lot of kid stars get all crazy or stuck in what they were, so they can't actually become what they're meant to be."
"When I went through a really intense breakup -- you know, I was engaged -- and when I was with him or when I was on Disney, the thing that gave me the most anxiety was not knowing what to do with myself when Disney wasn't there to carry me anymore or if I didn't have him," Miley adds. "And now I'm free of both of those things, and I'm fine...I lay in bed at night by myself and I'm totally okay, and that's so much stronger than the person three years ago, who would have thought they would have died if they didn't have a boyfriend."
In the interview, Miley also declares herself a feminist "I'm just about equality, period," she explains. "It's not like, 'I'm a woman, women should be in charge!' I just want there to be equality for everybody." She says that some of the reaction to her racy performances proves that society isn't there "100 percent" yet.
"I mean, guy rappers grab their crotch all...and have hos around them, but no one talks about it," Miley points out. "But if I grab my crotch and I have hot model b***hes around me, I'm degrading women? I'm a woman -- I should be able to have girls around me! But I'm part of the evolution of that. I hope."
You can read the entire interview with Miley when the new issue of ELLE hits newsstands April 22.
Copyright 2014 ABC News Radio