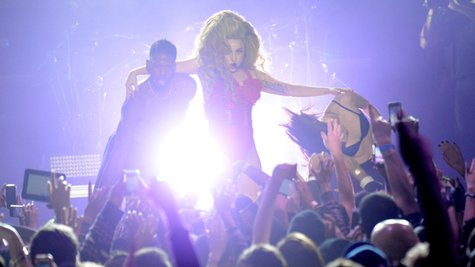 Lady Gaga completed her seven-night run at New York City's Roseland Ballroom on Monday night, with what will stand as the final concert at the famed venue.
Gaga opened the concert with a stripped-down version of "Born This Way." Afterward, she told her Little Monsters, "Everybody is here for one reason -- to say goodbye to such a special place, to this beautiful fantasy, this Roseland."
The New York City native wrapped up her set with "G.U.Y." She commented, "Roseland, thank you for all of the memories you've given us. Thank you for taking care of us." She then kissed the stage.
Fans who couldn't make it to the concert were able to watch a live stream at GetMoreGaga.com . You can watch highlights on the site now.
Roseland opened in 1919, though it has only been in its current location since 1956. It hosted near countless acts in its day, from Frank Sinatra to Madonna , Beyonce and many more.
Gaga kicked off her Roseland residency on March 28, which also marked her 28th birthday.
Copyright 2014 ABC News Radio