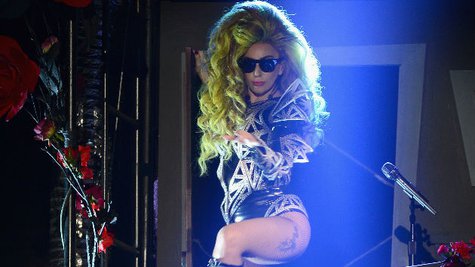 Photos of Lady Gaga performing onstage usually show the star looking pretty fabulous, but a new report claims that's because she exercises total control over the images, demanding retouching and final approval over every shot.
The New York Post reports that photographers covering an event were told to "smooth out [Gaga's] jaw line and thin her arm," as well as to "smooth out and thin her legs," and they had to agree to give the star final say before any of the pictures could be released. The event organizer tells the Post , "They are all complaining she's a control freak."
Kevin Mazur , a photographer who had the exclusive rights to shoot Gaga's recently-completed stand at Roseland Ballroom in New York, reveals to the Post that Gaga's team did have final approval over the images, and that he retouched them, but not excessively.
"It's like with any other artist I work with, and it's very minimal because we want to get the photos out there right away," Mazur told the Post, adding that he would remove little things like a stray piece of hair or a drop of sweat on Gaga's face. He's not bothered by it: in fact, he gives Gaga high praise when it comes to working with photographers.
"She caters to the paparazzi like no other artist I've ever seen," gushes Mazur. "Lady Gaga goes above and beyond putting on new outfits to make sure the paps have something every day."
Copyright 2014 ABC News Radio