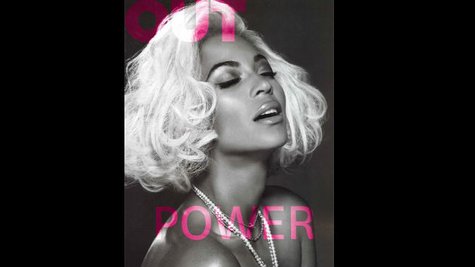 A topless Beyonce graces the front cover of Out magazine in a blond Marilyn Monroe wig. The appearance marks her first magazine cover for 2014.
In the magazine's upcoming Power issue, Beyonce gives her opinions on what she perceives as the inequality between male and female artists. "There is a double standard when it comes to sexuality that still persists; men are free and women are not. That is crazy," she says.
The singer also speaks about embracing her sexuality for her self-titled visual album, which is a concept she hopes will inspire her female fans. "The old lessons of submissiveness and fragility made us victims. Women are so much more than that," she says. "You can be a businesswoman, a mother, an artist, and a feminist -- whatever you want to be -- and still be a sexual being. It's not mutually exclusive."
The full article is available on Out.com . Fans can also check out two new remixes to her hit singles, "XO" and "Blow," which were revamped by French producer Monsieur Adi .
Copyright 2014 ABC News Radio