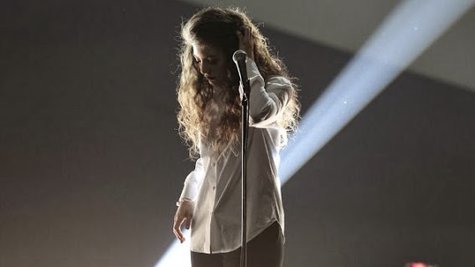 British musicians and celebrities took to Twitter on Monday to mourn the sudden death of 25-year-old Peaches Geldof , a model, journalist and TV presenter who was the daughter of Irish rock star Bob Geldof . Peaches, a married mother of two, was found dead at her home in England; the cause of death is not yet known.
"I don't believe it," Ellie Goulding tweeted, adding , "Even if you think you've got it all figured out, some things still can't be explained or understood. Two beautiful children. RIP Peaches." Lorde wrote , "you were a sparkling, lovely person who showed me such kindness. rest easy, peaches."
Katy Perry didn't write anything herself, but she retweeted a posting from her friend, designer Jeremy Scott , who had written, "HEARTBROKEN ABOUT THE LOSS AND REMEMBERING THE GIRL I KNEW WHO WAS SO FULL OF LIFE. RIP PEACHES."
Simon Cowell tweeted , "The few times I met Peaches she was a sweet, funny warm person. Much love to her family she has left behind." Duran Duran frontman Simon LeBon added , "How sad to hear about Peaches. Lovely, wild girl that she was...to Bob & family, our deepest sympathy & support."
Sharon Osbourne , Kelly Osbourne , and chef Jamie Oliver also sent their condolences via Twitter, as did Susan Sarandon and Alyssa Milano .
Peaches' father Bob Geldof is best known for organizing the massive Live Aid benefit concerts in the '80s, and spearheading the charity single "Do They Know Its Christmas." Her mother, Paula Yates , died of a drug overdose in 2000. She was also the mother of Tiger Lily Hutchence Geldof , whose father is late INXS singer Michael Hutchence .
The Geldof family has released a joint statement about Peaches' death that reads, "Peaches has died. We are beyond pain. She was the wildest, funniest, cleverest, wittiest and the most bonkers of all of us. Writing 'was' destroys me afresh. What a beautiful child. How is this possible that we will not see her again? How is that bearable? We loved her and will cherish her forever."
Copyright 2014 ABC News Radio