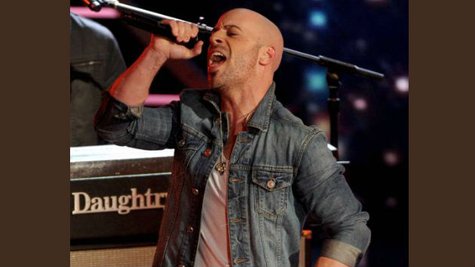 Chris Daughtry knows a thing or two about singing competitions, having come in fourth on American Idol, and served as a mentor for the contestants this past season on the show. Now, he's been tapped by McDonald's to put his experience to good use.
Chris will serve as both a mentor and a judge to the semi-finalists in the fast-food chain's Voice of McDonald's global singing competition. Sixteen semi-finalists from around the world were selected from a field of nearly 58,000 McDonald's employees, and they'll compete to win the "Voice of McDonald's" title, as well as a grand prize of $25,000.
"I know what a competition can mean to a developing artist's career," said Chris in a statement. "I couldn't be more excited to partner with McDonald's and mentor these contestants like I did during this season on American Idol ."
Others who will help Chris judge the semi-finalists include super-producer David Foster and singer/songwriter Skylar Grey , who's perhaps best known for co-writing the #1 hit "Love the Way You Lie" for Eminem and Rihanna .
You can vote for your favorite of the 16 from now through April 28 at VoiceofMcDonalds.com, and the Fan Favorite winner will get five grand.
Copyright 2014 ABC News Radio