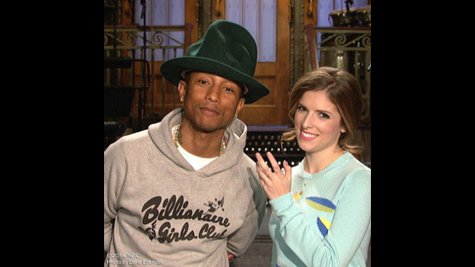 Pharrell Williams is the musical guest tonight on Saturday Night Live, and he trades puns with host Anna Kendrick in recently posted video promos . They joke about their music as she mentions his smash hit "Happy" while he refers to her hit "Cups" from her movie Pitch Perfect.
Pharrell wears his trademark hat made famous on the Grammy Awards, but in one promo, it's conspicuously absent. When Kendrick asks where it is, he replies, "Couldn't fit into the elevator. Besides, it just got cast in a new Roy Rogers movie."
Pharrell's reference to Rogers, the late, great singing cowboy who was a superstar in the '30s, '40s and '50s, leaves Kendrick totally perplexed.
SNL airs at 11:30 p.m. ET on NBC.
Copyright 2014 ABC News Radio