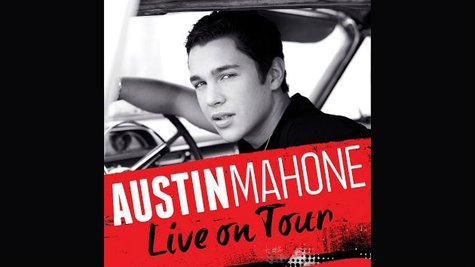 The Secret is out -- or at least, it will be May 27. That's the name and release date of Austin Mahone's long-awaited debut album.
Austin, who turns 18 today, April 4, will be supporting the album with a summer tour presented by MTV. Joining him for the trek will be British group The Vamps , and X Factor alums Fifth Harmony . If you buy a ticket to the tour, you'll get free download of The Secret ; tickets go on sale April 11 at 10 a.m. local time. Visit AustinMahone.com for full ticketing info. The tour starts July 25 in Austin's hometown of San Antonio, Texas.
In statement, Austin said of his big news, "This is for my Mahomies. Thank you for supporting me and sticking with me all this time. I couldn't think of a better way to celebrate my birthday than to be able to announce new music and a huge tour for all you guys!"
Another aspect of the tour is the MTV Ultimate Fan Experience. One lucky fan and three friends will win private dance lessons from Austin's crew, plus makeovers and the chance to perform onstage with the singer at a select tour date. To enter, submit a video of you and your three friends dancing to Austin's latest hit, "Mmm Yeah," to UltimateFanExperience.com starting May 3.
Copyright 2014 ABC News Radio