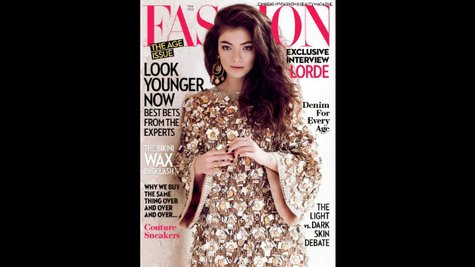 A smiling Lorde looks lovely on the cover of the Canadian magazine FASHION , sporting a fancy Dolce & Gabbana dress. But inside the magazine, she rails against the photographers who try to make her smile, and explains why dresses just aren't her thing.
"Jackets and pants are my power clothes," she tells the magazine for its May issue. "I agree with ['80s music icon] Annie Lennox when she said, 'Wearing a suit is like wearing armor.' I wore pants and a shirt at the Grammys because it made me feel confident."
The 17-year-old singer also says she admires punk rock pioneer, poet and Rock and Roll Hall of Famer Patti Smith , who wore "men's shirts she chopped off at the sleeve." "That, to me, is the strongest look in the world," she gushes.
Lorde also admires Smith because of her rebellious, non-conformist attitude. "I'm drawn to women who aren't painted in history as sweet figures," she explains. "Patti Smith was prickly. She was frustrated. She didn't take people's s**t. There's no better music idol for young women, because there is a lot of pressure for us to be really positive all the time."
"Every photo shoot I do, I get asked for big smiles," she complains. "And I shouldn't have to be that way."
Lorde also disagrees with people who feel she's some kind of prodigy because of all that she's accomplished in her career. "'I'm not trying to be avant-garde with my approach or my music," she explains. "I like indie [rock], pop and literature. I like to play with them but that doesn't make me a genius."
In fact, she thinks that anybody can aspire to the kind of heights she's reached, because these days, we all have access to technology that will allow us to attain it. As she tells the magazine, "There are very few limits on what can be achieved by anyone of any age, living anywhere and of any race, because of the web…I'm proof of that."
The magazine hits newsstands on April 14; you can read more at FashionMagazine.com.
Copyright 2014 ABC News Radio