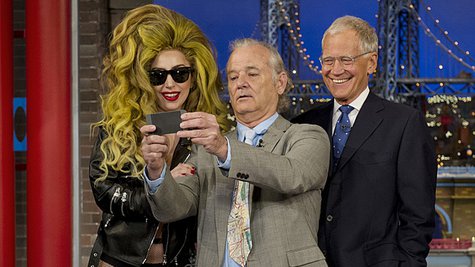 Lady Gaga treated David Letterman , Bill Murray , and the CBS late-night host's studio audience to a special performance on Wednesday's edition of Letterman's Late Show .
It all started when Murray told Letterman that one of the items on his bucket list was to meet Gaga. Gaga then popped into the Late Show studio, sporting oversized, yellow-streaked hair, black sunglasses, and a black leather jacket with a black bikini underneath. The trio snapped a selfie.
Gaga then asked Letterman and Murray, "Hey, what are you guys doing tonight, 'cause I have a show across the street and if you want to come over, I'll bring you. You can see the performance. I'll bring the audience."
Everyone then migrated to the nearby Roseland Ballroom, the legendary New York City venue that will close once Gaga completes her ongoing residency there.
Gaga changed into a red dress for a performance of "Dope," then switched to a white outfit for a live rendition of another ARTPOP track, "G.U.Y."
Gaga's next Roseland concert is scheduled for Friday.
Copyright 2014 ABC News Radio