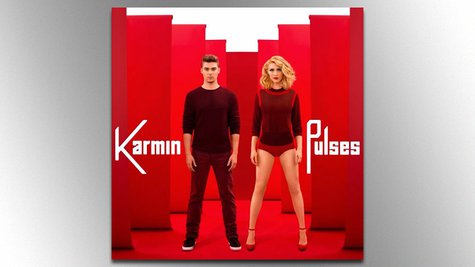 Three years after they first signed their record deal, pop duo Karmin are finally out with their debut album, Pulses , in stores now. The duo will kick off a new batch of tour dates this weekend, with opening act Bonnie McKee , and Karmin's Amy Heidemann says fans can expect "a nice blend" of material during the shows.
"We do, pretty much, the new record, and we have 'Brokenhearted' and 'Hello,'" she tell ABC News Radio, mentioning their two biggest hits. But her fiance and bandmate Nick Noonan adds that they'll also be including some of the popular YouTube cover songs that first got them attention and led to their record deal, as well as their own versions of current hits.
"We do put some new covers in the middle of new songs, too, so there's some familiarity within the new records," he explains. Which new songs will they perform? Amy says, "It depends on what we're feeling. It might be Ellie Goulding one night, or Macklemore the other night, so it's fun to throw that into our songs because now, it's like this blend of our originals and covers."
The duo is happy to have Bonnie along for the tour, since they knew her before she was a Grammy-nominated songwriter: that happened this year, thanks to her co-writing Katy Perry 's "Roar."
"We had a recording session with her early on and learned her story and she's just a great artist, and we're excited that she was interested in touring with us," Amy tells ABC News Radio. "I think it's going to be fun." Nick adds that they've known Bonnie since the time they started getting noticed for their YouTube covers, and notes that coincidentally, she actually wrote some of the songs that they covered, such as " Teenage Dream. "
As for the new album, Amy says that even though it seems as though it's been in the works for years, it's not as though they haven't released anything at all.
"We came from YouTube, signed a record deal, put out an EP... Hello , and then we recorded this for about a year," she explains. "And we've got 12 songs on it and it's a lot more of Nick singing, it's a duo feel. It's heavier, there's definitely a lot more emotions: Pulses is about the ups and downs of life, so that's the nutshell."
Still, the album is arriving more than two years since the release of their first big single, "Brokenhearted." Why did it take so long? "Well, it was amidst touring," Amy tells ABC News Radio. "I guess we did over 600 shows [in] three years...and other things. I mean, life happened!"
"There were definitely a few tracks that were scrapped," Nick adds. "We kind of had the whole thing done, I think once or twice, and then we were like, 'Actually, no'...so we went back in and got some more songs, and then had to figure out what to do with those songs, so there was kind of a lot of that." However, the duo says Pulses finally shows off what they call the "Karmin sound."
The tour kicks off April 6 in Dallas and will wrap May 8 in Salt Lake City.
Copyright 2014 ABC News Radio