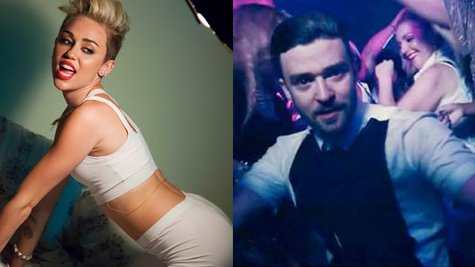 Miley Cyrus and Justin Timberlake probably didn't expect to wake up this morning and find their names mentioned in the same breath as Russian President Vladimir Putin , but their scheduled concerts at a venue in Helsinki, Finland have dropped them in the middle of the current geopolitical scrum over the Ukraine.
The Financial Times reports that Helsinki's Hartwell Arena, where Justin and Miley are scheduled to perform May 12 and June 1, respectively, is co-owned by three Russians and Putin pals who are subject to current U.S. economic sanctions against Russia, because of the country's annexation of Crimea. That means U.S. citizens and businesses -- including the singers and their tour promoter, Live Nation -- are forbidden from doing business with the Russian businessmen. Which means if the concerts go on as planned, both Miley and Justin could find themselves in some seriously hot water.
It seems unlikely, however, that things will get to that point. Live Nation tells the Financial Times , "We are currently reviewing our portfolio and we will work to ensure the US sanctions against the identified Russians are upheld."
Copyright 2014 ABC News Radio