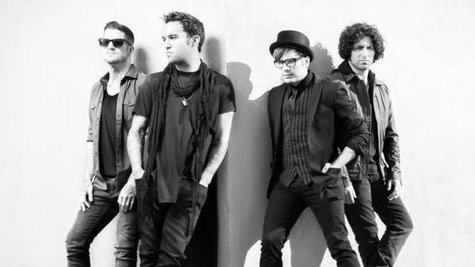 Fall Out Boy released their first album in years, Save Rock and Roll, earlier in 2013, but they've already got another release ready to go. It's called PAX*AM DAYS , and it's an eight-track disc described as a collection of 80's-punk influenced songs. Ryan Adam s produced the set at his PAX AM Studio in Hollywood; hence the name.
The disc will be available both a digital release, and as an add-on to a Limited Edition version of Save Rock and Roll , both of which are coming out October 15. November 29 will bring a vinyl version of the set for Record Store Day.
Explaining why they made the album, Fall Out Boy states on their Facebook page , "S ometimes to get where you are, you need to get back to why you even began in the first place: making noise for no reason, laughing at jokes…just the camaraderie of fast, loud songs. This is the closest to the earliest inception of what le d us to Fall Out Boy Boy: this is the alpha to the omega that is Save Rock and Roll ." They add, "We screamed in the parking lot and recorded bass on the bathroom tile. This is meant to be rough and feel like it's about to snap. This is back to the fun of why we started doing this thing."

On October 10, Fall Out Boy will appear on The Ellen DeGeneres Show to perform "Alone Together," their latest Save Rock and Roll single. That'll be followed by a November 29 benefit for the Grammy Foundation's Grammy in the School music education program in their hometown of Chicago. Tickets for that go on sale October 5 at the band's website.
In a statement, bass player Pete Wentz says, "We are excited to give back to the GRAMMY Foundation as music education is so important to young artists. This foundation means so much to us and the future of bands and musicians."
Copyright 2013 ABC News Radio