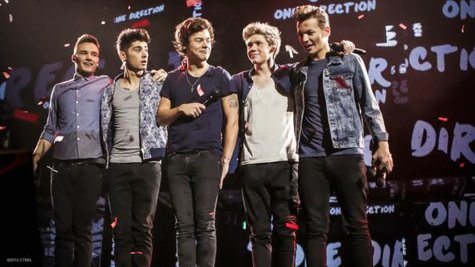 Miley Cyrus may grab the most headlines these days, but it's One Direction who's number one on Billboard 's "21 Under 21" list for 2013, ranking "music's most powerful minors."
1D is #1 because, as Billboard writes, they've become "an inescapable pop phenomenon that's hot enough to incinerate any obstacle in its universe." The publication cites the success of the band's 2012 album Up All Night as well as their recent single, "Best Song Ever," and concert documentary, This Is Us .
Justin Bieber ranks second: this year, his Believe Acoustic disc topped the Billboard 200 album chart, and he toured the world.
Miley comes in at number three, thanks to her comeback singles "We Can't Stop" and "Wrecking Ball." Though Billboard doesn't dwell on it, she's also been making plenty of news lately -- this week alone, Rolling Stone published an interview with its new cover girl in which she defended her MTV VMAs performance and said she has offered advice to Justin on how to properly handle himself.

The magazine has also posted on its website a profanity-filled video of Miley skydiving for the first time. All this, and Miley has tattooed the words "Rolling Stone" on her feet, too.
And there are rumors, debunked by E! Online , that she's romantically involved with rapper Mike Will Made-It following her breakup with fiancé Liam Hemsworth . She's featured on his single "23."
Even Miley's activity on eBay draws attention. According to E! Online , Miley on Wednesday quickly tweeted -- then deleted -- a link to an eBay auction along with the message, "BUY MY OLD CAMERA!" The camera is advertised as a barely-used Nikon N80 35mm SLR camera with a 28-90mm lens kit. At last check, the current bid was over 10 thousand dollars, thanks to the camera's connection to Miley.
Copyright 2013 ABC News Radio