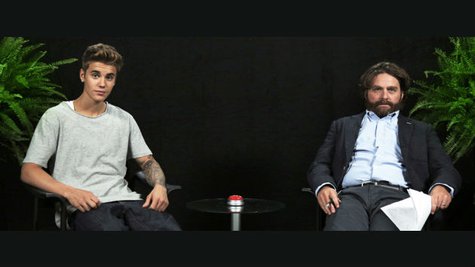 Remember when Justin Bieber tweeted that he was off to "do something funny...or die?" Well, now we can see what he meant. Justin's taped an episode of Between Two Ferns, the talk show parody hosted by The Hangover star Zach Galifianakis , for the website FunnyorDie . During the five-minute chat, Zach brings up all of Justin's recent controversies, and then gives him a good spanking.
After poking fun at Justin's young age, insulting his music and asking him why on earth he filmed himself peeing in a bucket, Galifianakis gets heated, yelling at the singer for his naughty behavior. "I don't like your attitude, to be quite honest...you're too young to be smoking pot, pee-peeing in buckets and driving up and down the highway fast!," he yells. I don't think your mom would mind if a stranger whipped her son." "You ain't spanking me, man," says Justin, but then Zach removes his belt and starts waling on Justin with it.
Galifianakis then apologizes, telling Justin, "I'm sorry that I did that. I don't really think spanking fans is really a good thing. But you're not a child. That's the point. So I can hit a grown man with a belt." He then asks Justin who he's dating and also attempts to dump green slime on his head -- but he gets covered in slime instead. "I was in the wrong chair," Zach says, as the interview ends.
Copyright 2013 ABC News Radio
Between Two Ferns with Zach Galifianakis: Justin Bieber from Justin Bieber