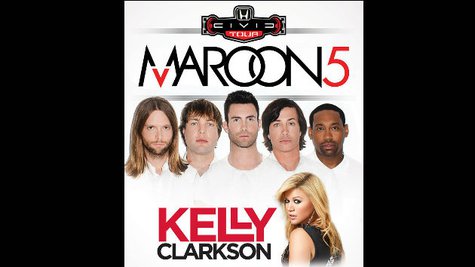 Maroon 5 and Kelly Clarkson , who are currently touring together, have both been famous since 2002: that year, she won American Idol, and they released their hit debut album, Songs About Jane . But according to Maroon 5, they feel that they can trace much of their current success -- which has seen them top the charts multiple times in the past two years -- directly back to Kelly.
Speaking to The Dallas Morning News, Maroon 5 guitarist James Valentine says that he believes if Kelly hadn't become a big star after winning American Idol , they wouldn't be where they are now. How so? "The success of her success opened the door for all those other shows," he explains. "That opened the door for Adam [ Levine ] to get involved with The Voice and exposed us to a whole new audience, so we owe her a lot."
Indeed, since Adam's been on The Voice, Maroon 5's career has never been hotter, with a long list of recent hits like "Moves Like Jagger," "One More Night," "Payphone," "Love Somebody" and "Daylight."
James and bass player Mickey Madden agree that Kelly is an "unbelievably great singer," but as they point out, that sometimes isn't enough to have a successful career after you win a reality show. The Voice , for example, has yet to produce an artist as successful as anyone from American Idol.
"A lot of things have to go right after the show," Madden said. "You have to have good songs, you know. You can't rest on any laurels."
Copyright 2013 ABC News Radio