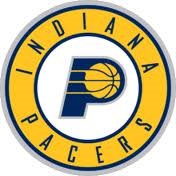 The Indiana Pacers are hoping to get a contract signed with Paul George before the season starts.
If the Pacers can't reach a deal with George he will become a free agent in 2014.
George is the NBA's most improved player. He averaged 17.4 points and 7.6 rebounds per game last season. The 6-foot-8 small forward says he wants to play for Indiana.
Pacers President Larry Bird has not yet confirmed but sources say the two sides are nearing a five-year, $90 million contract.