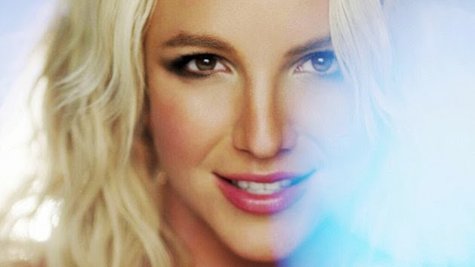 Ever since Britney Spears hit the scene more than a decade ago, she's been a sex symbol, tantalizing the world in her videos and performances as a sexy schoolgirl, a half-naked snake charmer, and a nearly-nude, spangled "Toxic" temptress. But now that Brit's a 31-year-old mom of two, she says she doesn't exactly feel comfortable working it on camera the way she used to.
Describing shooting the video for her new single "Work B***h," Britney tells E! News, "My choreographer, when I was doing the rehearsals for this video, he was like, 'Britney, you are not a sweet mommy in this video. You are nasty b***h mommy in this video. And I was like, 'Gasp! Oh! OK!'"
She adds , "When you start to feel the character, you start to feel silly, 'cause you're like, 'This isn't me, I'm not...all like this, moving all sexually and stuff like that. So as 'mommy,' you feel really awkward doing that...when I watch playbacks sometimes, I'm like, 'Who do I think I am?! Who the hell do I think I am?!'"
Britney also talked about her upcoming Las Vegas show, and explained why it's the perfect choice for her right now. "It seemed like the ideal job to me because I felt like when I was on tour, I'm in a different bed every night...It felt kind of ideal to be set in one place," she told E!.
Meanwhile, Britney's ex, Kevin Federline , seems none too pleased at reports that Britney plans to include their eight-year-old son Sean Preston in her Vegas show from time to time. He told TMZ , 'We'll see about that." When asked he'd like to see Sean onstage, Kevin replied, "Yeah, if he was like 25 years old." Kevin also said he wouldn't go see Britney in Vegas, noting that when he's in Sin City, he's "at the craps table."
Copyright 2013 ABC News Radio