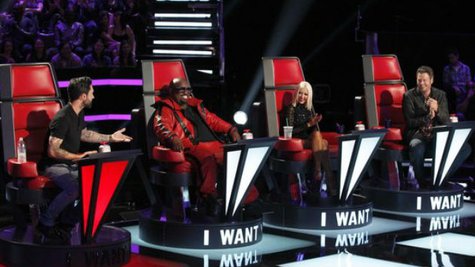 NBC's The Voice returns for season five Monday night with two familiar faces sitting in those big red chairs: Christina Aguilera and Cee Lo Green . After both stars took last season off -- with Shakira and Usher filling in for them -- they've returned to the fold, and Christina says reuniting with Adam Levine and Blake Shelton does, indeed, feel "so good."
"It actually is like a family," she says about her return to the show. "I don't wanna be cliche or corny when I say that, but I was actually looking forward mostly -- besides, of course, being able to coach and [mentor] fresh talent -- having a laugh with these guys." She adds, "I sit next to Blake and he keeps me laughing all day long!"
Cee Lo says he, too, is glad to be back in the Voice fold. "Everything about this show is just...so positive and so progressive," he gushes. "It's just a real positive energy to be a part of, and it's such a genuine family atmosphere: so organic and honest and open. I really appreciate it, and I really missed the company a lot."
For his part, Blake says it's "truly like a family reunion" having the old gang back together, adding, "I think it's going to create probably the most competitive season that we've seen on The Voice so far because...it really brings back those original rivalries that we had in the beginning."
And speaking of those rivalries, Blake has won the last three seasons of the show. While the other coaches say it'd be nice to keep him from making it four in a row, that's not what the show is all about.
"We want to pull for our teams -- we want them to win," says Christina. "But I think we can all agree it's the contestants that do win at the end of the day, and not us." Adam, who pretends to be upset by Blake's winning streak, agrees. "It's great to work with these guys and try to get them to win the show, which is obviously the end goal when you're on The Voice," he explains. "But it's kind of more amazing just to work with these people, and help them get to wherever they're going to get...whenever they go home, they go home with these amazing experiences based on the things that we've experienced, [that we're] handing down to them."
He adds, "Winning is great. And trust me, I hate the fact that Blake won three in a row. But winning isn't always the point. And I think that as long as we do our jobs and teach them what we know and help them along, honestly, we win."
The Voice returns Monday night at 8 p.m. ET on NBC. The mentors this year include Cher for Blake's team, Ryan Tedder for Adam's team, Miguel for Cee Lo's team, and Ed Sheeran for Christina's team.
Copyright 2013 ABC News Radio