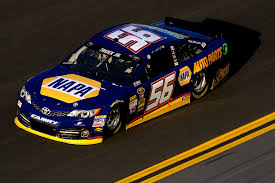 Michael Waltrip Racing will be losing a sponsorship.
NAPA announced Thursday that they will drop their sponsorship of the number 56 Toyota effective December 31, 2013.
Truex recently signed a 3-year deal with NAPA but after the incident that occurred during the last race of the season at Richmond NAPA decided to move on and drop their sponsorship from the No. 56.
The chain of events at Richmond during the end of the race altered the outcome and moved Truex up in points to qualify for the Chase for the Sprint Cup.
Truex earned the second wildcard after the race before his self and his teammates were penalized for their actions which NASCAR determined were "detrimental to the sport".
MWR respects NAPA's decision and will move forward in finding a new sponsor for the No. 56.