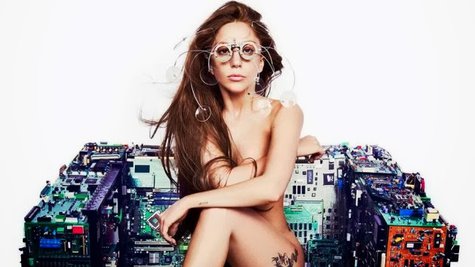 In a quick Twitter Q&A with fans on Friday, Lady Gaga unveiled more details about her upcoming album ARTPOP , including the news that the track listing will be revealed on September 29, while the cover, which she calls "my FAVORITE of all my album covers," will debut in the next two weeks.
" ARTPOP is a psychedelic-pop journey, an album trip that represents my love of pop music while exploding and pushing its 'artificial' limits," she tweeted . "Every song on the album is completely different. I delve deeply into other genres and the collaborations are really authentic."
She also revealed, "All the songs are private. One song, 'Brooklyn Nights,' you can dance to it, but it's melancholy and personal...i need a whole box of tissues for that song. and a hug under a disco ball." When asked what "Brooklyn Nights" is about, she quoted what seemed to be the lyrics: "It seemed like a real perfect fit/those Brooklyn nights set us free/I always thought it was you, you always thought it was me."
When asked if any songs were inspired by her boyfriend, actor Taylor Kinney , she named a track called "Temple." "It's about feeling safe with someone so beautiful on the inside and out," she explained.
Other revelations from Gaga:
--Her record label chose "Applause" as the album's first single, not her, but she says, "I like it for making an artistic statement while being catchy." She says the second single will debut closer to the album's November 11 release date.
--The night of the album release, she's planning a "HUGE EVENT" called "the artRAVE," which will feature "exhibitions and a performance by me!"
--She's "so excited" that Adam Lambert will be singing her song "Applause" on an upcoming episode of Glee because he's "very talented and perfect for the song."
Copyright 2013 ABC News Radio