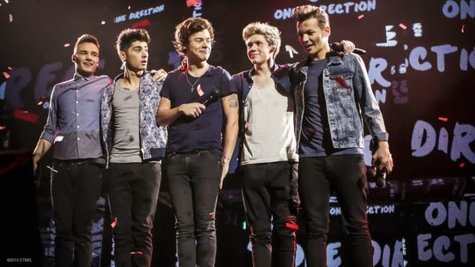 Listen up, girls: don't backtalk your mom and don't lie to her. If you do, she just might turn around and sell your One Direction tickets on eBay. At least, that's what one extremely upset mom in Australia is doing.
The woman is selling four tickets to 1D's concert in Sydney, Australia on October, and in the description, she's posted an extremely long rant about how she's doing it to punish her daughter for acting like a "trollop" -- that's another word for "slut" -- and being "lippy and self-righteous."
"You can thank my daughters self righteous and lippy attitude for their sale," writes the mom about the ticket auction. "See sweety? And you thought I was bluffing." She adds, "I hope the scowl on your b***y little friends faces when you tell them that your dad and i revoked the gift we were giving you all reminds you that your PARENTS are the ones that deserve love and respect more than anyone. And your silly little pack mentality of taking your parents for fools is one sadly mistaken."
The woman goes on to detail that the daughter and her friends "LIED to us about sleep overs so you could hang like little trollops at an older guys HOUSE," adding, "I find it HIGHLY amusing that you girls think you invented this stuff. Tricks like this on OUR parents is how HALF of you were conceived....And why a lot of your friends DONT have an address to send that Fathers day card to!!!"
The mother then drives the point home, telling her daughter, "I'm not your friend. I'm your MOTHER. And I am here to give you the boundaries that YOU NEED to become a functional responsible adult. You may hate me now..... But I don't care. Its my job to raise a responsible adult...not nu[r]ture bad habits in my teen age child."
When we last checked, unbelievably, bidding on the four tickets had reached $24,100 in Australian dollars, which is about 22 grand in U.S. dollars. The auction ends Wednesday.
Copyright 2013 ABC News Radio