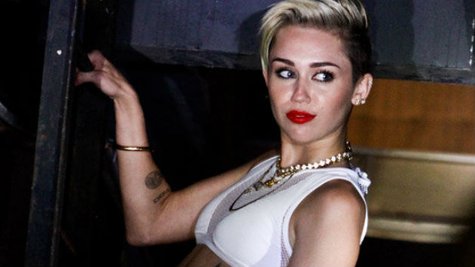 Miley Cyrus' documentary Miley: The Movement premieres on October 2, and a trailer for the special gives fans a peek behind-the-scenes at the singer's crazy life, including an unexpected moment with Britney Spears .
In the trailer, we see footage of Miley meeting fans, rehearsing, working in the studio, hanging with her sister and her mom, posing at photo shoots and walking into the MTV Video Music Awards that fateful night, intercut with her explaining where her head's at these days.
"I was, like, born to become who I am right now," Miley says. "Right now, I'm at a point in my career where I can be exactly what I wanna be, who I wanna be. Any time I do anything, I wanna remember, 'This is what separates me from everybody else."
"I have this freedom to do whatever I want 'cause I'm starting as a new artist now," Miley adds.
We also see a shot of Miley sitting in the studio with Britney Spears, with whom she shares a manager. "Everyone takes the VMAs so serious," she tells Britney. "And I just wanna come out and, like, shoot a hot dog gun! I wanna have fun." Britney cracks up at Miley's comment.
Over footage of Miley on the red carpet at the VMAs, we hear her say, "You're always gonna make people talk. You might as well make them talk for, like, two weeks, rather than two seconds." Well, mission accomplished there.
Miley: The Movement airs Wednesday, October 2 at 10 p.m. ET/PT.
Copyright 2013 ABC News Radio