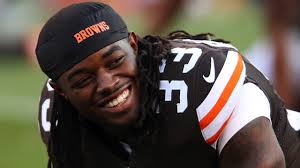 The Indianapolis Colts lost their starting running back Vick Ballard after he injured his right knee last week but no worries.
Cleveland traded star running back Trent Richardson to the Colts for a 1st round pick on Wednesday.
Richardson went 3rd overall in the 2012 NFL draft. He rushed for 950 yards last season averaging 3.6 yards per carry. After losing Ballard to injury the Colts should have no worries now that Richardson is running the ball in Indianapolis.
As for the Browns, they seem to be rebuilding again. Quarterback Brandon Weeden isn't panning out to be the QB they had hoped he would be and after starting the season 0-2 the Browns will start third string quarterback Brian Hoyer on Sunday against the Vikings.
After picking up a first round pick from the Colts for Richardson Cleveland now has 10 picks in the 2014 NFL draft with 7 coming in the first 4 rounds. Cleveland should find their quarterback next year until then, Browns fans will just have to ride the storm out.