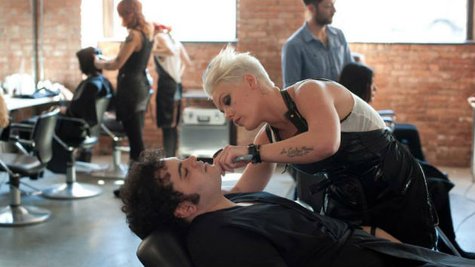 Under her birth name, Alecia Moore , Pink co-stars in the new movie Thanks for Sharing with some pretty heavy hitters in Hollywood, including Oscar winners Gwyneth Paltrow and Tim Robbins and Oscar nominee Mark Ruffalo . But according to them, she more than held her own on screen.
Speaking to Variety at the movie's premiere, Pink said, "I'm not an actress; I'm just here...I'm with people that are at the top of their game and it was awesome to get to watch." But Robbins didn't agree, telling Variety, "I think she is an actress, no matter what she says. She's really good, really good!"
And Josh Gad , who shares the most scenes with Pink, wouldn't stop raving about her.
"She showed up the first day and she's like, 'You know guys, I'm sorry. I don't want to hold people back. I'm new to this whole thing,'" Gad told Variety. "And then, all of a sudden the cameras roll and it was like we were in Sophie's Choice . Like, it was the most amazing acting I've ever seen. I looked over at Tim and Mark Ruffalo [and said], 'We're dead. She's going to steal the whole movie from us.'"
Thanks for Sharing is a dramedy about a group of sex addicts who all meet in a support group, and Pink explains that the film will help to show people that sex addiction is a legitimate disease, and not just an excuse someone gives when they're caught cheating.
"I know a lot about addiction," she told Variety. "I've lost a lot of people in my life and had some interesting experiences myself. I believe that all addiction comes from the same monster, it just wears different masks."
Thanks for Sharing will be released this Friday.
Copyright 2013 ABC News Radio