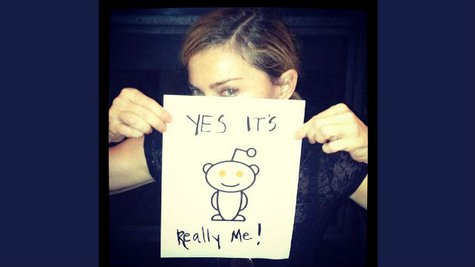 Madonna still isn't on Twitter, but she braved the wilds of Reddit on Monday night for a free-wheeling Q&A which saw her discussing Daft Punk , her secret Brad Pitt dreams and her dirty birthday gifts -- while being suspiciously silent on the topic of Lady Gaga .
During the session, entitled "Ask Madonna Almost Anything," the Queen of Pop revealed that she might release a new album in 2014 because her "creative juices are flowing." She said the album most definitely would not be rock, and when someone mentioned that Pharrell Williams once said that she should collaborate with his pals Daft Punk , she replied, "I would love to work with Daft Punk, just waiting for them to return my call."
Asked to name the best present she received for her 55th birthday last month, Madonna replied that she'd received "a bong in the shape of a [male organ]." When one fan wanted to know if she'd tried "making out" while wearing her "grilz," with which she's been photographed lately, she wrote, "Yup, it works."
When she was asked about her most recent dream, Madonna raised eyebrows by writing, "Brad Pitt and I were living together and there was a small blonde child in the bed." She added, "Sorry Angelina , it was only a dream." When asked to name the last thing she laughed about, she wrote, "The fact that i had a dream about brad pitt."
But remember -- this was "Ask Madonna Almost Anything." When one fan went there and wrote, "What do you really think of Lady Gaga?," she didn't respond at all.
Copyright 2013 ABC News Radio