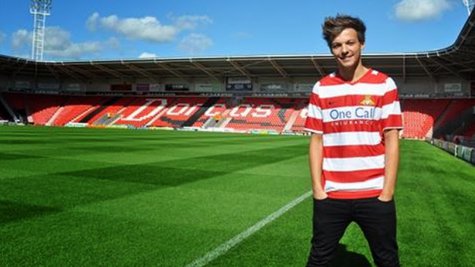 Poor Louis Tomlinson . The One Direction star announced earlier this year that he'd officially joined his favorite soccer team with the express purpose of playing in a charity match, but now he's had to bow out of the game.
A statement on the Doncaster Rovers' website announces that Louis won't be able to play in the game, which is scheduled for this Wednesday, due to injury. He'll still be attending the match and will watch from the bench, but fans who had hoped to see him in action on the field will be able to apply for a full refund.
"I'm really sorry I can't play I'm gutted," Louis wrote on Twitter . It's not clear what his injury is, but it could be related to an incident in a match he played a couple weeks ago, when he was tackled on the field so hard that he vomited.
Louis was playing in this particular match to raise money for the Bluebell Wood Children's Hospice, a local charity. He assured fans that he'll play in another game in 2014.
Copyright 2013 ABC News Radio