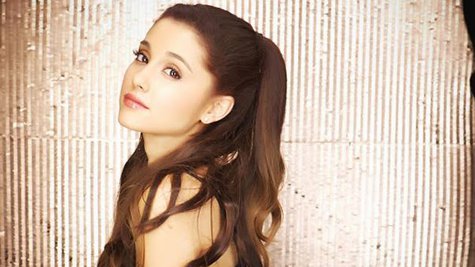 Ariana Grande 's dreams are "truly" coming true. Not only has her debut album Yours Truly debuted at #1 on the Billboard chart, but it's also gotten absolutely stellar reviews. And Ariana is thrilled that the disc's mix of '90s-style R&B-flavored pop and fifties retro is going over so well.
"Music is my life," Ariana gushes to ABC News Radio. "Since I was a little girl I would sit in front of the TV set and sing along with Judy Garland 's concert series on DVD, and, like, pretend to be her. So this is like a dream come true: not only are my personal fans enjoying the music but the fact that I'm being recognized by, like, extraordinarily credible music reviewers and all this stuff, I'm just so honored and excited!"
In addition to the approval of the critics and the fans, Ariana is grateful that one particular fellow artist has her back too: Justin Bieber . The two share a manager, and the Bieb made sure to tweet his followers to go pick up her album when it came out last week.
Asked what Biebs' support means to her, Ariana tells ABC News Radio, "A lot. I mean, I love Justin's music. When Believe came out, that was on repeat...I know every single word. And I'm so grateful to have a friend like him, who actually appreciates my music." She adds, "It just means a lot, especially somebody like him; he's a great musician."
Ariana says that she decided to call her album Yours Truly because when she looked over the song titles, none of them seemed to fit. "I didn't feel like any of [them] really encompassed what the album is really about," she tells ABC News Radio. "And I feel like the album is like a love letter written over the course of three years, and so I wanted to sign it like a love letter."
As for the unique sound of the record, Ariana, who's only 20, says she reached back to a time way, way before she was born for inspiration. "I've always loved R&B, I knew I wanted to do something R&B," she explains. "But I'm incredibly attracted to throwback music, like the '50s and '60s doo-wop. There's like an underlying theme of doo-wop throughout the album, I love that."
"I think it came together quite nicely," she says. "I'm happy with the hip-hop, doo-wop mixture; it's a very nice concoction."
But in addition to the great sales, reviews and kudos from fellow artists, Ariana says the thing about her album that's most exciting to her is that it's earned her fans who have never even watched her on the Nickelodeon shows Victorious and Sam & Cat.
"I'm so grateful for the family and kids who love my show and who watch me as 'Cat' and I love it," explains Ariana. "But I have to say, the past few months, when adults come up to me like, 'Are you Ariana? I love your music,' I, like, literally almost died...it's just the coolest thing in the world."
Unfortunately, there's one thing that's put a damper on Ariana's triumphant chart success: she's suffering from a hemorrhaged vocal cord and is on vocal rest, according to E ! "Thank you guys for the well wishes, I'll be better in no time... just need some rest," she tweeted .
Copyright 2013 ABC News Radio