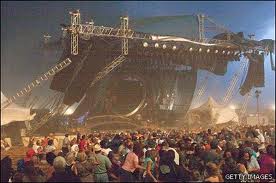 A settlement has been reached between state regulators and the local stage hands union in the 2011 Indiana State Fair stage rigging collapse.
The accident killed seven and injured dozens more.
Indiana Safety and Health Administration levied a fine of $11,500 against the International Association of Theatrical and Stage Employees Local 30 following the IOSHA investigation.
The agreement calls for the union to not have to pay the fine but it will provide fall protection and hazard identification training for all members by March 2014.
State regulators are still reviewing the appeal from Greenfield-based Mid America Sound, which was fined $63,000 related to the collapse.
Here is the full agreement:
http://www.in.gov/dol/files/IATSE_Settlement_Agreement_9-9-2013.pdf