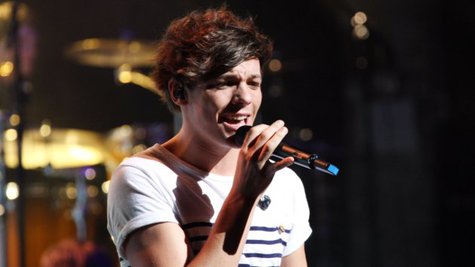 One Direction 's Louis Tomlinson loves to play soccer, but when he took part in a charity match on Sunday, he was hit so hard by another player that he had to stagger off the field and literally throw up. Now, the guy responsible says he's ready to apologize, but he's not going out of his way to do it.
According to the BBC, the player, Gabriel Agbonlahor , said of the incident, "It was one of those things. I'll apologize to Louis when we meet up." He doesn't have anything against Louis: in fact, it's quite the opposite.
"I know he enjoyed playing in the game and it's fantastic that he took time out to be here," said Agbonhalor of the charity match in Glasgow, Scotland, which attracted 60,000 fans. It raised money for a cancer charity named after a Bulgarian player who retired from the sport after being diagnosed last year with leukemia.
As you might imagine, furious 1D fans have been abusing Agbonlahor on Twitter for hurting their precious Louis. But the singer had better get ready for more bodily harm, since he recently signed up to play for his local soccer team, the Doncaster Rovers, in select future games.
Copyright 2013 ABC News Radio