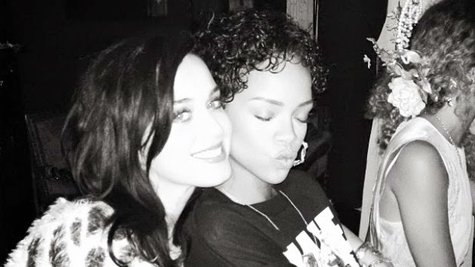 Katy Perry always looks flawless, and she owes that to a healthy lifestyle that includes hiking, green tea, vitamins and meditation. That's why in a new interview, she says can't believe that her pal Rihanna can looks equally as great, since she's, shall we say, not making the healthiest of choices.
Speaking to ELLE Canada about her beauty regimen, Katy says, "People say you should work out 30 minutes a day -- none of us works out 30 minutes a day!" She adds, "I think that Rihanna looks so fresh, and I'm like, 'How do you do that? We all know how much pot you smoke! And you don't sleep because you're on Instagram at four o'clock in the morning!'"
She jokes to the magazine, "I'll get her secret for you."
As for where Katy is mentally, she mentions that at age 28, she's truly passing through a phase from childhood to adulthood. "I think that it's a very important time, when you kind of let go of childish things and accept the wisdom that comes with age," she says. "That's exactly where I am now."
Saying her recent evolution has made her "cooler" and "sophisticated," she tells ELLE Canada , "I didn't grow up with a real education, but now I am kind of educated by life."
In other Katy news, her new album Prism , due in October, will include 13 songs on the regular album, and 16 on a deluxe version. She previewed 12 of her new tracks a few days ago in New York City, and according to Billboard, there are quite a few songs directly inspired by the breakup of her marriage to Russell Brand . However, her favorite track, "Unconditionally," is about her current beau, John Mayer .
Copyright 2013 ABC News Radio