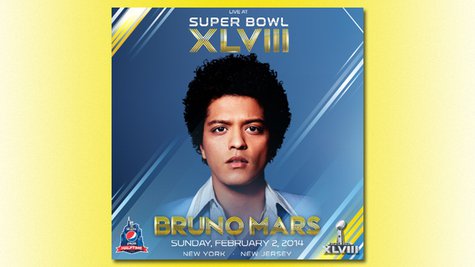 It's been rumored for a few days now but on Sunday, it was confirmed: Bruno Mars has been tapped to perform the halftime show during Super Bowl XLVIII, February 2 at the MetLife Stadium in East Rutherford, New Jersey.
The press release that followed the live announcement on FOX NFL Sunday also teased, " Fans are encouraged to tune into FOX Sports throughout the season to see what surprises Bruno Mars has in store for t his historic halftime show.
As for why Hawaii native Bruno got the nod over a Jersey rocker, local hero Bruce Springsteen has already performed at the Super Bowl, while fellow Jersey boys Bon Jovi are in a state of flux since the departure of guitarist Richie Sambora . In addition, Bruno has proved that he's an incredible live performer, thrilling audiences at the Grammy Awards, the Billboard Music Awards, the MTV Video Music Awards and his current Moonshine Jungle tour. There isn't likely to be any speculation as to whether or not he'll be singing live.
In addition, Bruno's got the hits to fill out the performance slot. Even though he's only been topping the charts for about three years, he's got a long string of smashes under his belt, from "Just the Way You Are" and "Grenade," to "Locked Out of Heaven" and "When I Was Your Man."
Copyright 2013 ABC News Radio