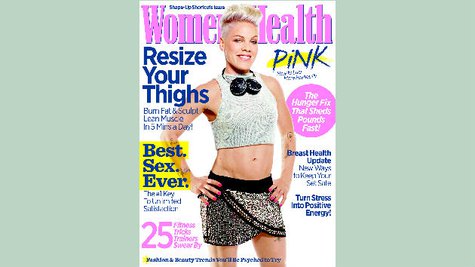 Each night in concert, Pink soars over the crowd's heads while performing a series of gravity-defying acrobatic moves and stunts. But when it's time for her to talk about what she's scared of, plunging to her death in front of 10,000 fans doesn't even make the list. In fact, Pink says her fears are a lot simpler than that.
"I'm afraid of spiders. I am afraid of sharks," she tells Women's Health magazine for its new cover story. "I'm afraid of the world running out of cheesecake, especially Cheesecake Factory. And then I would also have to be afraid of the world running out of key limes because key lime cheesecake is the best kind of cheesecake there is."
Her other food-related fear? "I would be afraid if pigs and dogs no longer found truffles," she reveals, adding that she would be afraid if there was suddenly a nationwide prohibition against alcohol, like there was early in the 20th century -- though, she brags, "I would know where to store my s**t."
Of course, Pink works off all that cheesecake, booze and truffles as part of her intense fitness regimen. She says she enjoys hot yoga, and works out five times a week, usually with a trainer, doing circuit training, treadmill intervals and everything in between. But her favorite workout, she says, is her live show.
"I get to have fun while I'm sweating! Don't even know how many calories I'm burning!" she says of her performances.
The rock-hard body that the singer is showing off on the cover of Women's Health belies her claim that she loves to eat bread, cheese and pasta and wishes she were in better shape.
"I would like to be more disciplined, but I just really enjoy food," she says. "I have an Italian mindset when it comes to food and family and festivities. It's like, just enjoy life. Try to eat clean as much as possible. I'd love to be 10 pounds thinner, but it's not in the cards for me. And I'm totally OK with that."
Read the entire interview with Pink in the October issue of Women's Heath magazine.
Copyright 2013 ABC News Radio