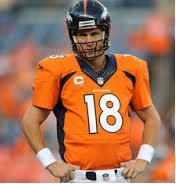 Week 1 of the NFL season kicked off on Thursday night with the Denver Broncos hosting the Super Bowl champion Baltimore Ravens.
The Ravens jumped ahead early with a 14-7 lead but as soon as Peyton Manning felt his rhythm kick in with the Broncos offense it was over.
Manning went 27-of-42 for 462 yards and a record tying 7 touchdown passes.
Broncos won 49-27.
The last quarterback to throw 7 touchdown passes in a game was Joe Kapp for the Minnesota Vikings 44-years ago. Sid Luckman, Adrian Burk, George Blanda and Y.A. Tittle are the only others to throw 7 TD's in one game. Kapp and Manning are the only two to do so without throwing an interception.
For a look at the Week one schedule for Sunday and Monday click the link below...