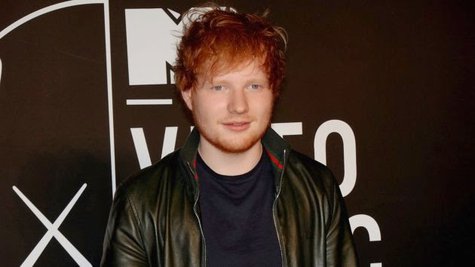 A while back, Ed Sheeran said that he had 40 songs ready to choose from for his upcoming new album. Well, now that number's expanded quite a bit, and the British star says he may be able to release not one, not two, but three albums in a very short span of time.
Speaking to Rolling Stone magazine, Ed said, "I've demoed 70 songs. I'm hoping to release three [albums] in three years." While he says he hasn't figured out exactly which of those 70 songs he'll put on the first of those three discs, he does know who'll be producing it: Jeff Bhasker , who's worked with Taylor Swift and fun ., and music legend Rick Rubin .
He tells Rolling Stone that so far, Rubin -- who's worked with everyone from Kanye West and Adele to Metallica and Linkin Park -- has "been a very, very helpful guy." However, Ed adds, "As far as the record is concerned...there are just so many tunes and so many directions to go with the album that I don't really know." Thankfully, he notes that he's got October and November to figure it out, since his tour with Taylor is wrapping up later this month.
Speaking of Taylor, Ed says that he's not going to duet with her on the new record, but he has nothing but praise for his experience opening for her on her RED tour. "[Taylor] treats her support acts better than anyone else I've ever been on tour with," he says. "It's [been] great."
Copyright 2013 ABC News Radio