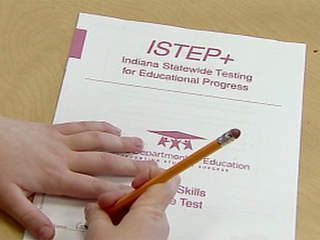 The Indiana State Board of Education announced Wednesday that nearly 1,400 ISTEP test scores from the 2012-2013 school year will be thrown out.
The scores – 1,101 math and 287 English results – will be invalidated due to errors in the online testing system which caused students to be kicked off mid-test in April.
CTB/McGraw-Hill administered the ISTEP test online this year but company officials say that inadequate virtual memory due to the increased user load caused students to be kicked off the system.
Officials said they determined that overall the impact of the interruptions "was negligible on test scores for the vast majority of students, and had no discernible effect on aggregated data."
Indiana Schools Superintendent Glenda Ritz is seeking $614,000 in damages from CTB/McGraw-Hill over the testing interruption.