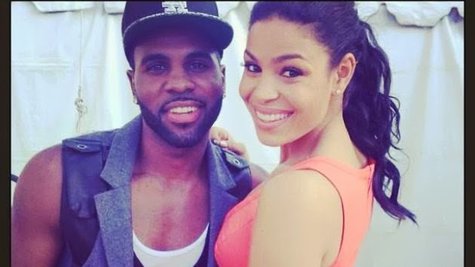 Anyone who wants to know the depth of Jordin Sparks and Jason Derulo 's devotion to one another just has to listen to the radio: Jordin co-wrote Ariana Grande 's hit " The Way " about her feelings for Jason and, of course, she inspired him to write his smash hit "The Other Side." And Jordin says she's thrilled that he not only wrote it about her, but that he actually decided to make it the first single from his upcoming album.
"When I was in the studio with him, it was very bare bones. It wasn't all the way done, like, the production and everything like you hear on the radio right now," Jordin says of "The Other Side." But she recalls that when he played the track for her and others, "All of us just kind of sat up a little bit straighter, like, 'This is really something special.'"
Jordin adds that while she was listening, she knew the song was about her, and she was "smiling, of course, like an idiot because I was like, 'Oh this is so cute!'" She says she especially admired lines like "soon you were eating off my spoon," which Jason used to describe the moment when their friendship became something more.
"There's a whole bunch of different things that you can say, like, 'Oh my gosh, I saw you with your shirt off,'" Jordin tells ABC News Radio. "But that...it's a more intimate thing and it definitely painted a really cute picture, you know: you're eating off my spoon, we're smiling in a photo booth...Jason's really talented with songwriting in that way."
And Jordin says she believed in the song so much that she urged Jason to release "The Other Side" first, even though not everyone on his team agreed.
"He got a couple of different, you know, opinions," she tells ABC News Radio. "But I was like, 'I don't think anything's gonna beat "The Other Side," right now at this point...it's perfect for what you're doing, what you're saying, your transition.' And so I was really excited that he ended up going with it."
She laughs, "And I love it too, 'cause he put [the word] 'Sparks' in there, so it made me really excited!"
Copyright 2013 ABC News Radio