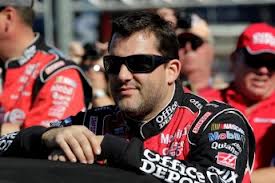 Tony Stewart says his broken right leg will be ready for racing in February 2014.
Smoke suffered a fracture in both his tibia and fibula during a Sprint Car race at Southern Iowa Speedway in early August.
Stewart had a titanium rod inserted into his right leg during surgery and doctors say the rod will make his leg stronger than ever. A full recovery is expected.
The three-time Sprint Cup Series champion has stated he will cut back on non-NASCAR racing because the long schedule of 2013 wore him out but adding that the injury will not deter him from racing sprint cars.
As for Stewart-Haas racing Smoke supports the addition of Kurt Busch to the team but adds the team still has two vital signings.