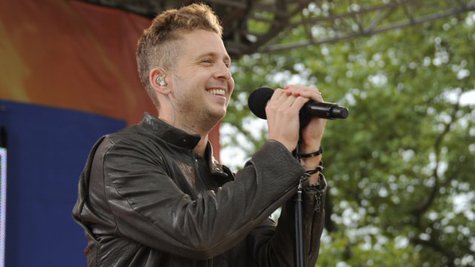 OneRepublic 's Ryan Tedder seems to eat, sleep and breathe music: when he's not writing for and touring with OneRepublic, he's creating hits for acts like Kelly Clarkson , Adele and Maroon 5 . But it turns out that Ryan has another obsession: food.
Speaking to the New York Times , Ryan says his favorite show to watch is Iron Chef , on the Food Network. "I've been into cooking for about 10 years now. If I hadn't gone into music, I'd have gone into food," says the singer. "In the next few years, I think I'd like to open a restaurant where my wife and I pick the chef and we plan the entire menu."
The restaurant concept, he says, is "a Spanish-Asian fusion restaurant — Spasian." He adds, "You could have prosciutto wrapped figs with goat cheese and some crazy dim sum and paella won tons."
Ryan has actually already invested in a restaurant: he's bought into Justin Timberlake 's barbecue restaurant Southern Hospitality.
In the same interview, Ryan reveals another obsession: historical papers. He says he owns handwritten letters from Abraham Lincoln and George Washington , adding, "My family has been in America since 20 years before the Mayflower. At an early age, I got to know my family history and that got me interested in American history. Owning an actual piece of history makes it real. And it's all appreciable. They're not going to make anymore."
Ryan and OneRepublic are currently on tour with Sara Bareilles through the end of October.
Copyright 2013 ABC News Radio