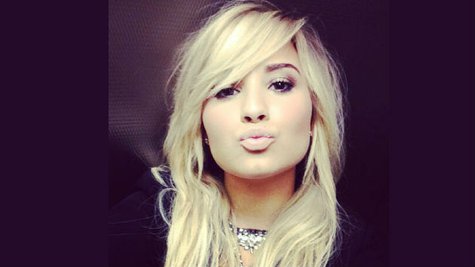 Demi Lovato fans were pleasantly surprised when it was announced that she would be joining the cast of Glee this upcoming season. Appearing on Live with Kelly and Michael on Tuesday, Demi says that she was surprised as well to be invited to join the Fox series.
As Demi recalled, she was all ready to leave to go to Kenya to celebrate her 21st birthday when she got a call from her manager saying that Glee creator Ryan Murphy wanted to talk to her. "Had I left one day after I wouldn't have gotten to meet with him," she said. " And [ Glee ] started shooting two days after I got back. So while I was in Africa, contracts were signed and deals were done. And then I land and I go straight to work."
Demi will play the love interest of Santana, played by Naya Rivera , on the Fox series, which kicks off its fifth season Thursday, September 26. But we'll see Demi on our TVs before then, when the new season of The X Factor, on which she's a judge, premieres next week. Demi told Kelly Ripa and Michael Strahan Tuesdaythat the judges' panel, which includes her, Simon Cowell and newbies Kelly Rowland and Paulina Rubio , is already really tight.
"It's so funny how well we all get along. Something just clicked," Demi says. "Paulina is hilarious. Her English is a little broken so it just makes her that much cuter and funny, and she's a little firecracker. She always calls me little sis. And then Kelly and I have gotten so close. She's one of the most incredible people I have ever met in my whole life."
It also looks like Demi's still playfully sparring with executive producer and fellow judge Simon. "I respect him but I'm also not intimidated by him," she explained. "I just see him as a really good person, with a really great heart and a mean exterior."
The new season of The X Factor premieres Wednesday, September 11 at 8 p.m. ET/PT on Fox.
Copyright 2013 ABC News Radio