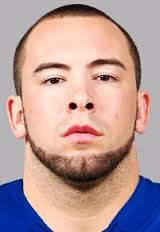 The Colts issued a statement Tuesday morning saying that John Boyett had been waived from their roster.
This after Boyett was arrested at an Indy bar over the weekend.
He is facing charges of disorderly conduct, public intoxication and resisting law enforcement.
Police say that Boyett was very abusive and appretnlty made fun of an officer's hair and nose.
Police said that Boyett also threatened to break an officer's jaw.
The incident began when an employee from Tiki Bob's bar approached a uniformed police officer and reported a man was refusing to leave after being denied entry because he was "too intoxicated."
Police said it eventually took four officers to subdue and arrest Boyett.
____________________________________________________________________________
The Indianapolis Colts John Boyett was arrested on Monday.
Boyett was not allowed into a bar in downtown Indianapolis because he was too drunk. The report said an officer tried to arrest Boyett and he took off running. When police caught up to Boyett and placed him under arrest he argued to police, 'you can't arrest me, I'm a Colts player.'
Twenty-three-year-old Boyett is facing numerous charges including resisting law enforcement.
Boyett plays safety for the Colts and was selected in the 6th round of the 2013 NFL Draft.