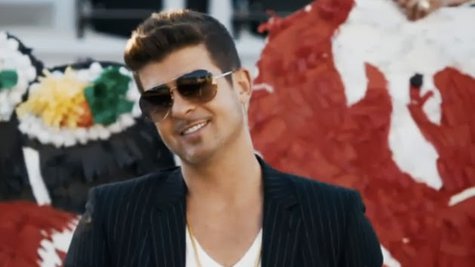 Robin Thicke 's mega-smash "Blurred Lines" has set another chart record. According Yahoo! Chart Watch , the single has sold five million copies in just 22 weeks. That's faster than any other song in digital history. The previous record-holder for fastest digital sales was Gotye 's "Somebody That I Used to Know," which hit the five million mark in 23 weeks.
"Blurred Lines" is the second-best-selling song of 2013, right behind Macklemore & Ryan Lewis ' "Thrift Shop." However, it's just 702,000 copies behind, so it should be able to close that gap pretty quickly and secure the #1 spot in a few weeks.
Meanwhile, "Blurred Lines" has been #1 for 12 straight weeks. That's the longest run at the top since 2009, when the Black Eyed Peas stayed at #1 for 14 weeks with "I Gotta Feeling." It's also the longest run at the top by a male artist since 2004, when "Yeah!" by Usher spent 12 weeks at #1.
The big question, though, is whether Robin can hold onto the top spot for a lucky 13th week. His biggest challenger is, of course, Katy Perry 's "Roar," which is currently #2. Both artists performed their songs on the MTV Video Music Awards, so both are enjoying a sales bump. Billboard reports that the songs are currently neck and neck; "Roar" has bigger sales, but "Blurred Lines" has more airplay and streaming points.
The winner will be revealed on Wednesday.