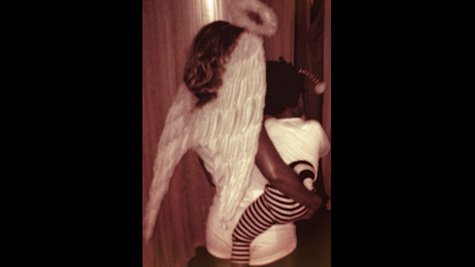 Beyonce has finally revealed her Halloween costume by posting a picture of herself dressed as an angel on Instagram .
The 32-year-old singer dons a pair of white feathery wings and a fury white halo while holding her 1-year-old daughter, Blue Ivy . Although Bey continues to shield her child's face, she did show off the toddler's costume, which included a pair of stripped leggings and stripped antennas. While it's unclear what exactly Blue Ivy is dressed as we can only guess that she's a baby bumble bee, perhaps a play on the singer's infamous BeyHive.
Beyonce is celebrating the 31st while she's traveling the Australian leg of her her Mrs. Carter World Tour, but to keep the spirit alive she's posted a picture of a carved pumpkin in her likeness on her Tumblr page as well as another image of her best scary face while waiting backstage.
Copyright 2013 ABC News Radio