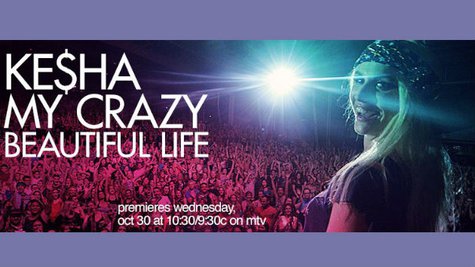 The big scene in the first season of Ke$ha 's MTV reality show My Crazy Beautiful Life was about the singer drinking her own pee. But according to Ke$ha, season 2, which kicks off Wednesday night, will focus more on matters of the heart -- and specifically, her search for true love.
"I'm sick of dating. I'm sick of boys. I'm sick of the whole game," the singer tells ABC News. "I just want to find my partner in crime and my soul mate. And I think they capture that in this season, a lot...I'm, just, like on the hunt for my soul mate."
Whether or not Ke$ha finds that soul mate remains to be seen, but she does have very specific ideas about the kind of man she wants. The perfect guy, she says, "is somebody that is outdoorsy and loves animals, and is really positive and is really funny -- and has a big weiner." Well, we're glad to know she's got her priorities straight.
Another focus of the new season, Ke$ha says, is family. "You get to meet my family, who are really highly entertaining and just out of control -- very loving, but just crazy," she tells ABC News. That includes her brothers, and her mom, Pebe Sebert , a songwriter who's penned material for the likes of Dolly Parton and other country stars, as well as Miley Cyrus , Miranda Cosgrove , and, of course, her own daughter.
Asked about her decision to include so much of her personal life in the show, Ke$ha tells ABC News, "People want so much information, so I at least wanted to make a television show where it was on my terms. I wanted to show them the real me, versus the media perception of me."
"I really wanted to just put out the the raw, real facts about who I am and what I love and what I do without any sort of spin on it that was created by somebody else, who doesn't really know me," she adds.
My Crazy Beautiful Life season two will also showcase the singer's love for animals as well as some of her patented bonkers, bizarre moments, like the scene when she becomes convinced that either her private parts are haunted, or she's pregnant with a ghost's baby.
"It is sometimes overwhelming, but it's overwhelming in the most magical way," Ke$ha says of her life, which she feels truly is crazy and beautiful. "I was thinking about it yesterday, and I just feel like the luckiest human being on the planet."
Ke$ha: My Crazy Beautiful Life season 2 debuts Wednesday night at 10:30 p.m. ET on MTV.
Copyright 2013 ABC News Radio