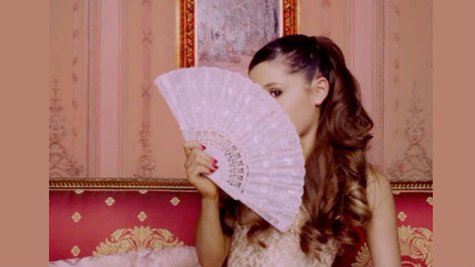 A riana Grande will be all over your screens this holiday season, singing on three of the biggest annual specials on American TV.
On November 24, the singer and actress will attend the American Music Awards, where she's been nominated for Best New Artist. At this point, it's not clear if she'll perform or present on the show, which airs live on ABC. Then, she'll be be featured in the 87th annual Macy's Thanksgiving Day Parade , which will air on NBC November 28. And on December 4, she'll be seen performing on NBC's Christmas at Rockefeller Center, which marks the lighting of New York City's legendary Christmas tree.
Before all that, though, you can catch Ariana as the backstage host at the MTV European Music Awards, which will air on MTV live from Amsterdam on Sunday, November 10.
Meanwhile, Ariana has debuted the video for her latest single, "Right There," featuring Big Sean . In the clip, the rapper portrays a priest, Ariana is "Juliet," getting ready for a masquerade ball, and "Romeo" is played by Patrick Schwarzenegger , son of screen legend Arnold . As "Juliet" sings at the party, "Romeo" and his bros are trying to find a way to break in. They climb up the gates of the house where the ball is being held, and then he spots her on the dance floor. Next, we see him smiling up at her as she sings on a balcony above the dance floor.
Cut to all the party guests diving into a pool, and we see Romeo and Juliet canoodling in the water, intercut with images of them embracing on the edge of the pool, as he kisses her hand. Then, they lock lips, fireworks go off, and Sean, as the priest, closes the book on the whole story...literally.
Copyright 2013 ABC News Radio