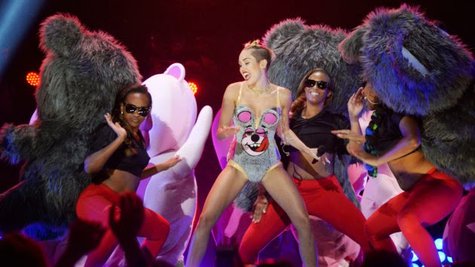 Some people might think Miley Cyrus deserves to burn in hell for her twerk-tastic performance at the MTV VMAs earlier this year, but some folks in England may be content to simply burn her in effigy this weekend.
Miley is the celebrity who's the odds-on favorite to be burned at the annual bonfire celebrations in Edenbridge, Kent, this Saturday night, according to the Kent and Essex Courier. Each year, the town chooses a hated celebrity and burns a 40-foot likeness of them, and the local bookies have singled Miley out as the favorite, at six to one.
A spokesperson for the bookmakers told the paper, "We all remember when Miley caused fireworks with her twerking at the VMAs and it is because of this we think that she could be...[going] up in flames in Edenbridge."
Other hated celebrities who are being considered to be burned this year: WikiLeaks founder Julian Assange , NSA leaker Edward Snowden , Russian President Vladimir Putin , and North Korean's Kim Jong Un . In the past, the likes of Lance Armstrong and Cherie Blair , wife of former British Prime Minister Tony Blair , have been burned.
Edenbridge's annual bonfire marks Guy Fawkes Night, which celebrates the arrest of Fawkes, a man who tried to blow up London's Houses of Parliament in 1605.
Copyright 2013 ABC News Radio