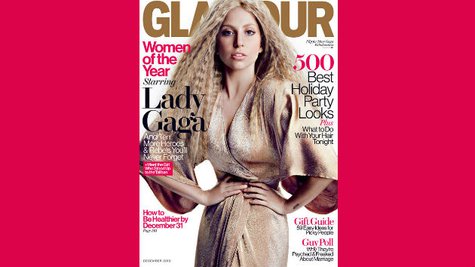 Stripped of all her makeup and costumes, Lady Gaga is actually pretty, and, as we've all seen recently, she also has a great body. So why does she purposely try to make herself unattractive with crazy outfits, wigs and makeup? Because, says the singer, as a woman in a male-dominated industry, it's sometimes just easier that way.
Gaga has been named Glamour magazine's Woman of the Year , and speaking to the mag for its December cover story, she explains, "Being beautiful is not so fun when you're in a business with all men, because it can actually get in the way. So in some ways, the outfits -- these creations -- are because I don't want to face the reality of what people want from a female pop star."
But while she admits to feeling more "confident" about showing off her body these days, Gaga won't go so far as to claim that she's, y'know, beautiful.
"Not conventionally beautiful," she tells Glamour. "If there was some sort of mathematical equation for beauty, I don't know if I would be the algorithm. I've always been OK with that. I'm not a supermodel. That's not what I do. What I do is music. I want my fans to feel the way I do, to know what they have to offer is just as important, more important, than what's happening on the outside."
Gaga also discusses her fraught relationship with Madonna , which began when fans noticed that her hit "Born This Way" sounded like Madonna's "Express Yourself."
"It did upset me when I saw a lot of young people fighting on the Internet [about it]. My desire is always to bring people together," she explains. "I never care personally what people say about me. But is it inspiring a community to split down the center and go to war over who is the queen? The music, and the message -- this will always be more important to me than people thinking I'm the best."
Gaga also says she doesn't like people speculating on whether or not she'll have the kind of career longevity that Madonna has had.
"Who's to say I'm anything like her at all? Who's to say that my ambitions are even the same as hers?" she tells Glamour. "Who's to say I'm not an entirely different person? Because I am."
To read the entire interview with Gaga, pick up the December issue of Glamour.
Copyright 2013 ABC News Radio