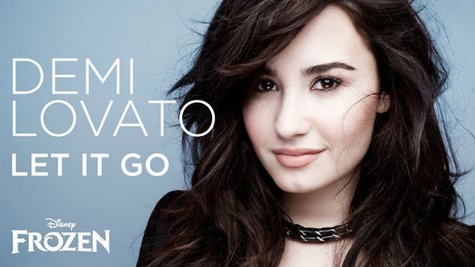 "Let It Go," the song that Demi Lovato recorded for the soundtrack of the upcoming animated film Frozen , officially hit iTunes on Tuesday, but we'll have to wait until next month to catch the video.
The clip for "Let It Go" will premiere on ABC's Good Morning America on November 1; the movie itself arrives November 27. It's loosely based on the Hans Christian Anderson fairytale The Snow Queen, and it tells the story of Princess Elsa, who's due to inherit the throne of her kingdom. Unfortunately, she's blessed -- or perhaps cursed -- with the power to create snow and ice, and inadvertently plunges her kingdom into eternal winter.
The song "Let It Go" is also sung in the movie by Idina Menzel , who voices the character of Elsa; Demi's version plays over the end credits. Demi says of the tune, "It's so relatable. Elsa is finding her identity; she's growing into who she is and she's finally accepting her own strength and magical powers. Instead of hiding it, like she's done all her life, she's letting it go and embracing it."
This isn't the only movie song Demi Lovato's recorded this year: she also had a track called "Heart by Heart" on the soundtrack for The Mortal Instruments: City of Bones. In addition, she's been featured on several Glee cast recordings, as part of her multi-episode arc on the show.
Copyright 2013 ABC News Radio