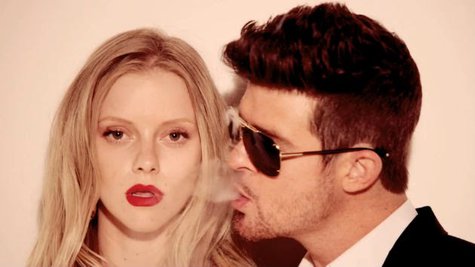 Robin Thicke 's "Blurred Lines" was definitely the song of the summer, but now it's earned another title: it's officially the best-selling song of 2013.
Yahoo! Chart Watch reports that the tune, which topped the Billboard chart for 12 weeks, has sold six million copies, making it the sales champ of the year so far. What's more, "Blurred Lines" sold those six million copies in just 29 weeks: faster than any other song in digital history. The old record on that was held by Gotye , whose song "Somebody That I Used to Know" hit six million in 30 weeks last year.
On top of that, "Blurred Lines" is one of only three songs ever to move six million copies in a single year. The others are that Gotye tune, and Carly Rae Jepsen 's "Call Me Maybe."
Robin's album Blurred Lines also reached #1 this year, in both the U.S. and the U.K. In December, he's booked to perform at this year's Grammy Nominations Live concert, where his name is sure to be called multiple times as a nominee.
Copyright 2013 ABC News Radio