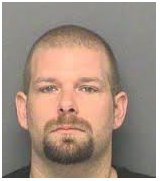 An inmate that escaped from Morgan County Jail was captured around 2pm on Saturday.
Inmate Blair Wolfe escaped while doing chores outside the jail fence around 5pm on Friday.
Police found Wolfe in Hendricks County around State Road 267 north of Interstate 70 while heading to his father's house in Plainfield.
Wolfe was put in jail on a Class-D felony of theft but had earned special privileges and became a trusty or inmate worker.
He now faces an additional 5 years on escape charges.